Our Library - "All About Girl Stuff"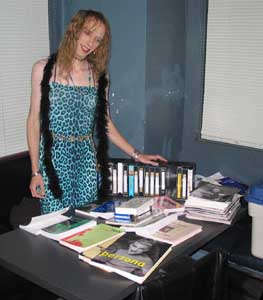 Ardra, our Librarian
One of the biggest advantages our group gives our members is access to material, be it books, publications or videos, relating to crossdressing and transgender issues.
You don't always find resources like this at your local bookstore. Besides, for many of us, going through the struggle to learn more about our own feelings, it has been a difficult subject to talk about. Never mind asking someone about it at the bookstore.
Our club library has books, videos and magazines on such topics as..
Makeup techniques
Feminine presentation
Fashion
Family issues
Relationship issues
And much more!
Although many of the publications are written by professionals, some are written by girls, "just like us", who have dealt with many of the same issues, giving us the "inside scoop" and making it far easier for us to decide for ourselves how we can do just the same.
Our library materials are available at our monthly meetings giving our members a terrific opportunity to learn more about this very special part of ourselves.
Write to us via e-mail girlstuff@masquerade.ca
All photos are used with permission.
© Masquerade 2009