Out & About - "Where To Go Shopping In Winnipeg"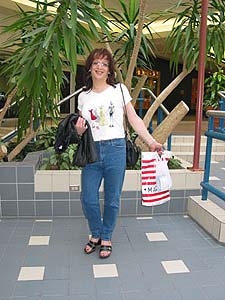 Just where does a girl SHOP in Winnipeg you ask??
Well. It depends on what it is she is shopping for! The photo at the right is of Shandi during a shopping trip to Grant Park Shopping Center! Below is Sabrina out and about in Polo Park!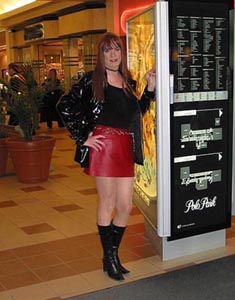 For all the specialty items that us T-girls need to look pretty, there are specialty shops that have what we "need', to the malls that have everything we "WANT!"
Being a part of Masquerade is such an advantage, when it comes to finding out what to get something and where! Otherwise, just who would we ask!
Like learning about sizing, what to measure for what garment, and how to select what is the right one!
Although most of our members go shopping in drab, some do enjoy shopping en fem. But believe us, it still took them forever to get up the nerve to try it, to find out once and for all that it really is ok to go out and have fun being a girl!
Will the clerks think I'm weird to be out buying women's clothes while in drab?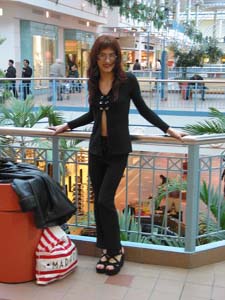 Not at all. Yes, it is hard to shop in drab sometimes. However, it is our own fears working against us with that worry. When approached in the store, it is simpler to say "Oh, thanks, I'm looking for something like this in a size 13!", rather than trying to hide the fact. Besides, the clerk doesn't know it isn't a gift! They just want to help you find what you are looking for.
Are crossdressers accepted in Winnipeg stores??
You bet! It doesn't matter if we go shopping in drab or en fem, we have been treated like every other customer. Those stores are in business to sell products to customers, and it doesn't mater if we are in drab or en fem when we shop, our cash is the same either way!
Vanessa at the right is a happy girl at Portage Place!
So if you are a crossdresser living in Winnipeg, Masquerade is the group for you. Whether you'd like to join us for a fem day of shopping, or would like to talk with others about fashion sense and where to shop, Masquerade is the answer! Kinda like joining the "Car Club" to get the inside scoop on "Race Day!"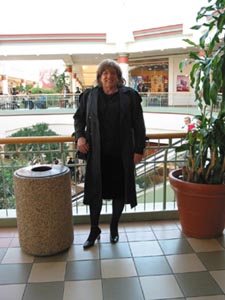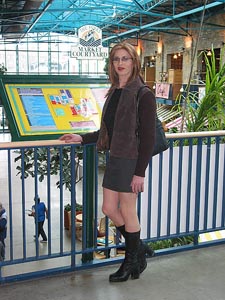 Our members "Out & About"
Dawn @ Polo Park and Chantal @ The Forks Market in Winnipeg
We've compiled a list of places in Winnipeg to go shopping for girl stuff. There are so many places that are "TG Friendly". These are all places our members go shopping, in drab, and en femme!
Lady Godiva Boutique
-Lady Godiva Boutique

Breast forms, cinchers, gafs & padded panties

Love Nest
-172 St. Anne's Rd.

Lingerie

Payless Shoes
-Polo Park Shopping Center
-St. Vital Center
-Garden City Shopping -Center
They do carry up to woman's size 12 in some styles

Shoe Warehouse

-Madison Square
They do carry up to woman's size 11 in some styles
La Chateau Warehouse
-1395 Ellice Ave.
The clearance center for their mall stores. Usually a great place to get some really good buys.
Value Village stores
-942 Jefferson Ave.
-1725 Pembina Hwy.
-1695 Ellice Ave.
-1590 Regent Ave. W
A terrific place to find really good buys on brand new and used clothing.
Salvation Army Thrift Stores
-1030 Empress St.
Another terrific place to find really good buys on brand new and used clothing.
Garage Clothing Co.
-Polo Park Shopping Center
-St. Vital Center
They carry up to size 13, and sometimes 15, in styles for the "young at heart" (yes, mini skirts)
Danier Leather
-Polo Park Shopping Center
-St. Vital Shopping Center
-1045 St. James St. (Factory Outlet)
For those who love wearing fine leather, Danier Leather has what you want. Their warehouse store has discounted prices, and if their stores don't have your size, just ask, they can order it in for you!
Zellers
-Polo Park Shopping Center
-Fort Richmond Plaza
-Grant Park Shopping Center
For just about anything your heart desires
Wal-Mart
-St. Vital Center
-Empress & Sargent

A great place to buy jewelry! They have a beautiful selection of rings in larger sizes.
Penningtons
-Empress & Sargent

Penningtons carries a lot of styles in the "larger" sizes. Perfect for us girls!
Penningtons
-Pembina Highway

Very "TG Friendly"
Undies World
-Portage Avenue

This is a great place to buy alternative underwear styles, similar to women's styles but designed for men.
Mariposa
-Grant Park Shopping Center
-Polo Park Shopping Centre

At the Polo Park location, a comfortable place to try on skirts, even when shopping in drab! Grant Park is densly packed and you realy have to look through the racks.
The Real Canadian Superstore
-Grant Ave. & Keneston Blvd.

This is a great place to buy panty hose.
Buffalo
-Polo Park Shopping Center

The staff at this store are very TG Friendly.
Leissa Lingere
-Corydon Ave.(Tuxedo Plaza)
The staff are very professional when assitsing us girls finding what we are looking for.
The Bay
-Polo Park Shopping Centre

The clerks are very helpful and understanding.
Fyxx
-Downtown

The staff are very TG Friendly
Eyelet Dove
-Academy Road

Another place to shop for lingerie and the owner is very helpful. Plus the fitting rooms are available to us girls!
Magic Room
-Edmonton Street

A web site visitor recommends visiting the Magic Room for facials, makeup, waxing, manicures and pedicures. They are very understanding and visits can be open or discrete depending on your comfort level.
For sizing information submitted by Odila, Click Here

If there is a place in Winnipeg that you have shopped at and found them to be "TG Friendly", please let us know and we wil add them to our list.
Write to us via e-mail girlstuff@masquerade.ca
All photos are used with permission.
© Masquerade 2009