Out & About - "Dining Out In Winnipeg"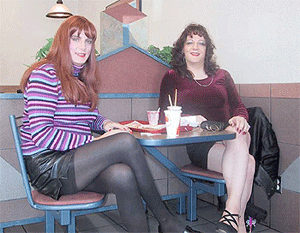 Ever been out in a restaurant in guy-mode and seen a pretty girl all dolled up and secretly wished it could be you??
The girls of Masquerade enjoy dining out in Winnipeg and have always been treated very well. After all, we're the customers with the money!
Right....Sabrina & Shandi at McDonalds after shopping!
Whether it be a quick stop for a bite to eat at McDonalds or A & W, meeting the girls at the lounge in the Radisson Hotel before going out shopping, a dinner at The Old Spaghetti Factory before going to the night clubs, or a planned group event at The Fat Angel Bistro, going out to dinner at the restaurants in Winnipeg is always a lot of fun.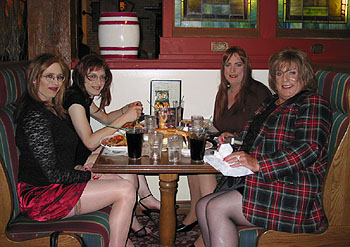 Perhaps this all has do do with the old saying "All dressed up and no where to go!" Through the years many of us did just that. Got all dressed up and had no where to go.
Left.... Chantal, Vanessa, Sabrina & Dawn at the Old Spaghetti Factory at the Forks Market in Winnipeg
The Girls of Masquerade have found life can be much more relaxing when you can get "All Dressed Up and HAVE some place to go!" It gives us the chance to leave "Him" behind and lets the "Girl inside" come out to play for the evening!
Meeting the girls and "Dining Out" is a wonderful part of the social aspect of our group because it gives the girls the opportunity to get out and enjoy their "girl time" just like any other girl!
If you'd like to join in the fun Click Here for info.
---
Dinning at Denny's with a VIP :-)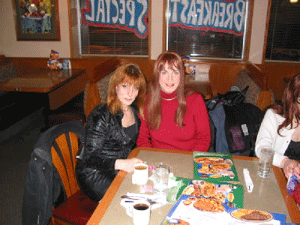 Our friend Nikki from Regina with Sabrina
"Out with the girls at Denny's"
---
The Girls of Masquerade at The Fat Angel Bistro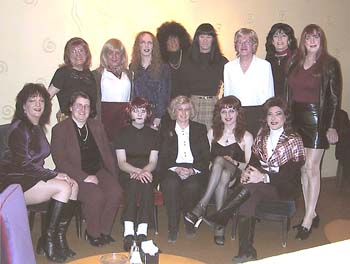 Back Row: Edwina, Angela, Ardra, Martina, Annette, Lisa, Natalie, Sabrina.
Front Row, Shandi, Kristine, Donna, Our Den Mother Mary, Vanessa, Andrea.
Check out our Photo Album for more pics of our members "Out & About" in Winnipeg!
Write to us via e-mail - girlstuff@masquerade.ca

All photos are used with permission.
© Masquerade 2009